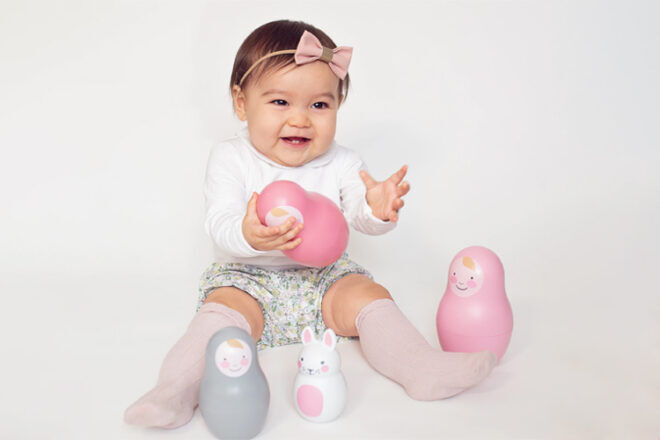 Doll in doll, shape in shape and animals of graduating sizes – Babushka dolls are just too cute.
Babushka dolls are fun sets of figures of decreasing size that are placed one inside the other. Also known as Matryoshka, stacking dolls, Russian dolls or nesting dolls, they've been around since 1890 but put aside the traditional image, matryoshka has been totally modernised for the tots of today.
We've uncovered 17 of the best nesting dolls and put them in this handy list. Ranging from people to penguins and almost everything in between, they're guaranteed to appeal to both the young and young at heart.
What to look for when buying babushka dolls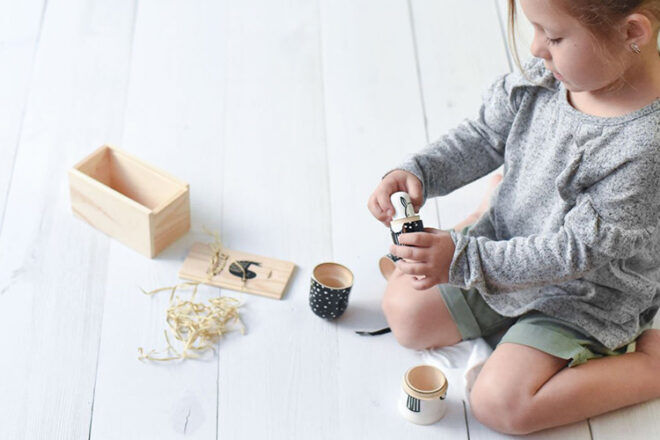 Design – A babushka set is a family in itself, so consider the whole cast and how well they connect and tell a story.
Material – Will the nesting dolls be for display or play, or both? Pick durable materials if you intend for the set to be played with by little hands.
Size (especially the baby babushka) – Larger babushka sets are more suitable for babies and toddlers to grip, open and close. They're also a safer choice because often the littlest babushka in a standard set might be tempting for tiny mouths.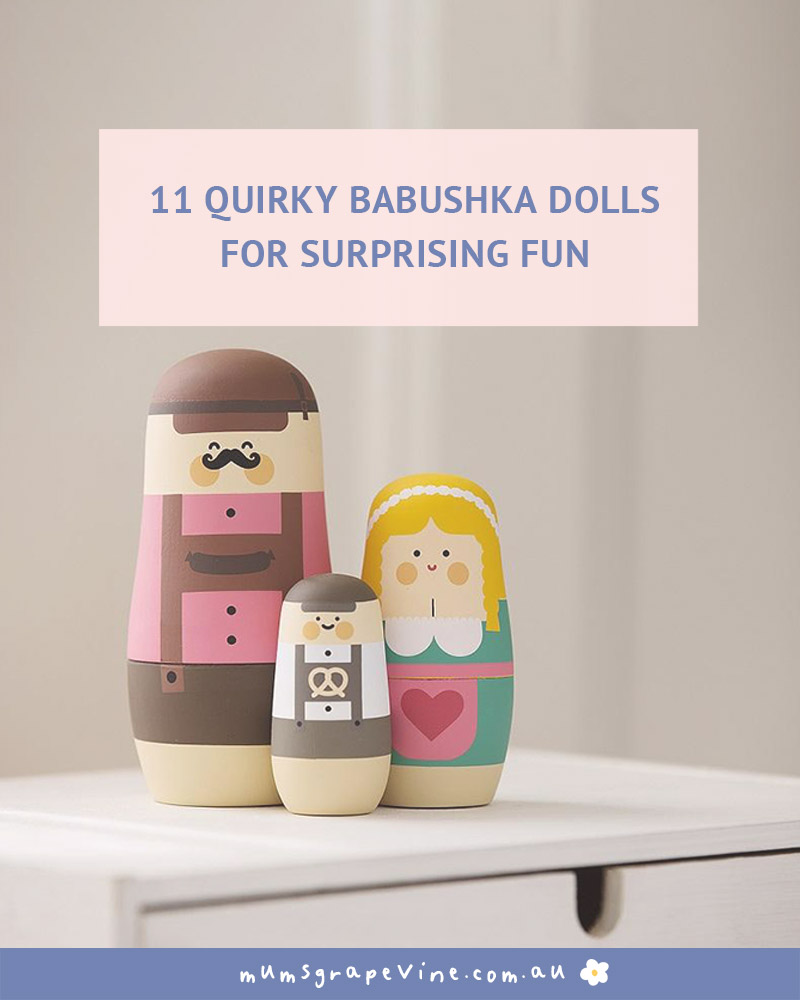 17 cute and quirky babushka dolls
A babushka doll will surprise and delight for many years. We've stacked up countless options to bring you a selection that we love. In this list, you're bound to find a theme that suits your child's personality to a T.
In no particular order, here they are:
Babies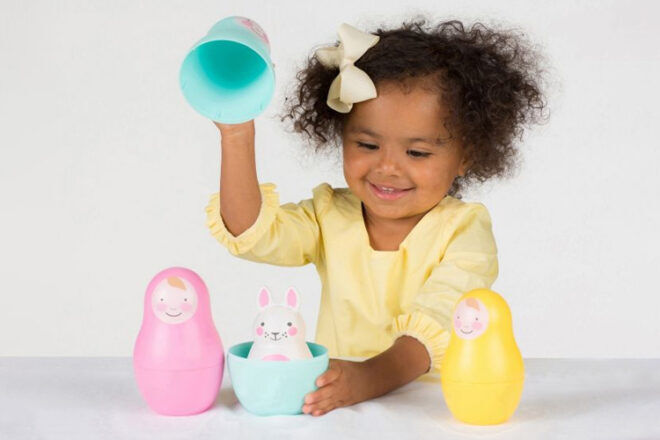 Large and light enough for little hands to hold, there are three different visually stimulating colourways to choose from. The best is saved to last – Bo the bunny might be the smallest, but adds a surprising musical element when he chimes.
---
Wombats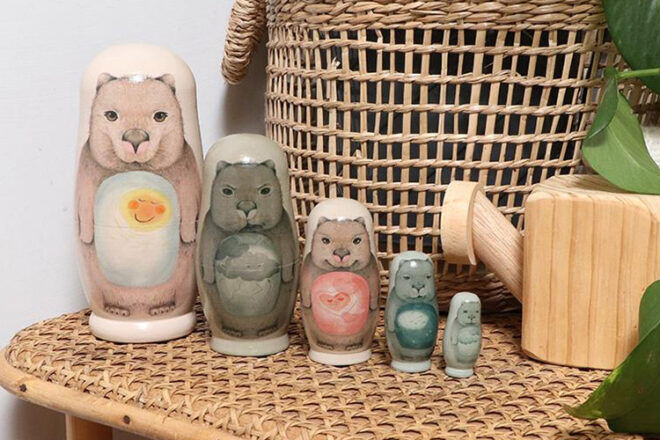 We love how each wombat represents a different emotion and special character of its own. Arriving with an easy-to-read book, Cheery, Grumpy, Heartfelt, Teary and Sleepy form a beautiful, educational keepsake that they'll treasure.
---
Arctic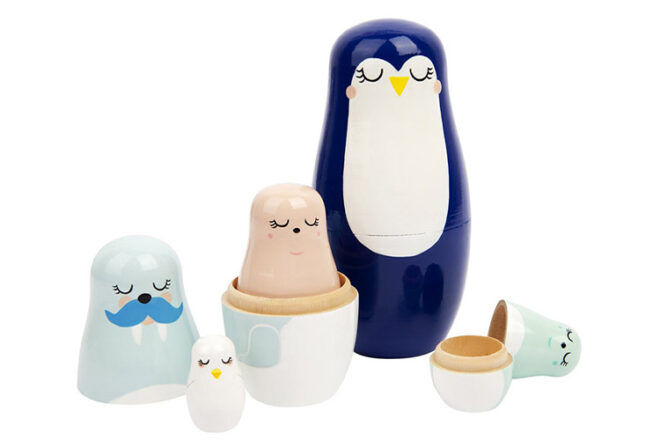 Many arctic adventures can be created using these aqua-loving nested buddies. A set of five in the sweetest shades, let this walrus and his seal and penguin friends provide your child with hours of delight, and look great in their playroom whilst they're at it.
---
Family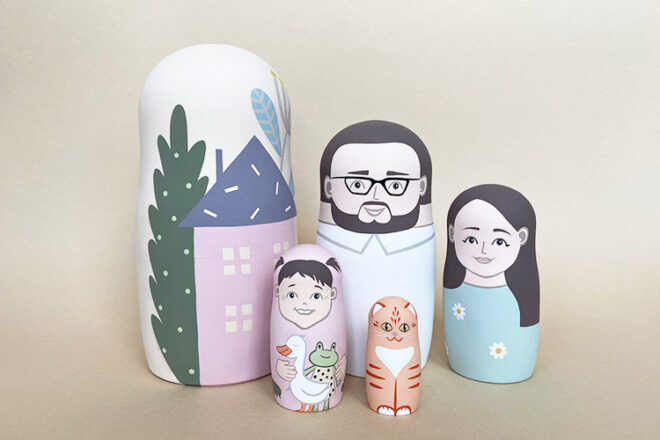 Furry friends and even your facade are included in this babushka set starring the coolest characters on the block: you! Fully customisable for up to four family members, your expressions, clothing and colouring are expertly hand-painted onto linden wooden dolls.
---
Acorns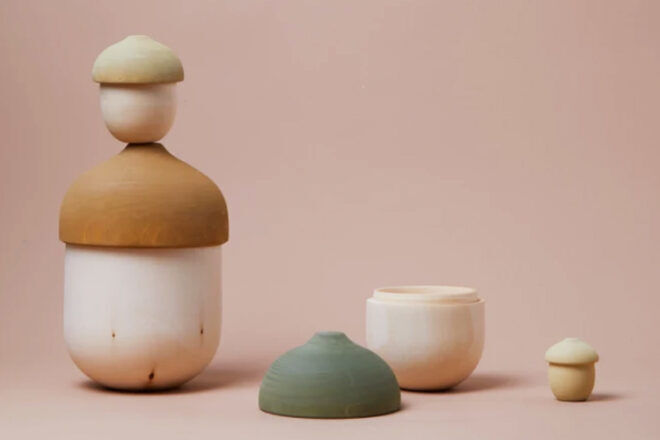 In the form of adorable acorns, the traditional babushka is given a whimsical woodland twist. Carefully sanded smooth to create a sensory, velvety texture and lightly painted to allow the wood grain to show through, they're keepsakes to treasure.
---
Colourful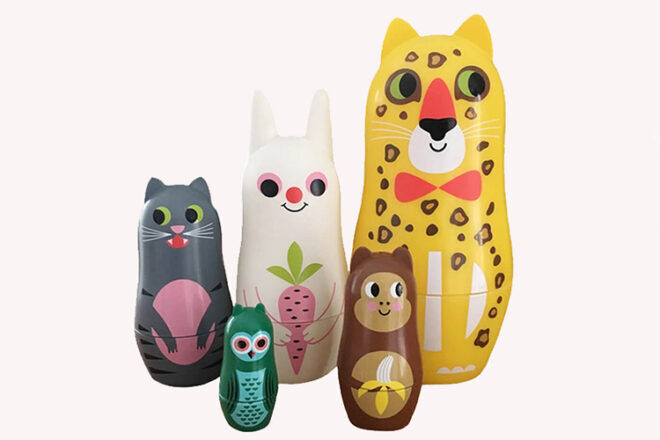 It's hard not to giggle when you see this gang's funny expressions! The colourful, retro critters with cute ears are perfect for playing, displaying or storing treasures. Designed by a children's illustrator, they're made of recyclable plastic.
---
Landscapes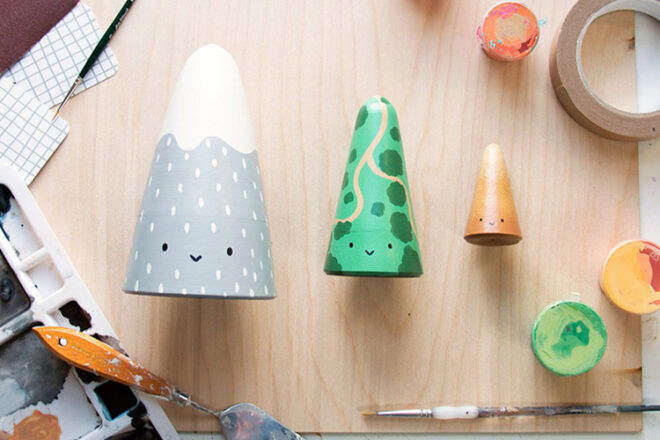 Who knew mountains could be so sweet? Hand-painted with care, this earth-inspired nesting set makes a delightful addition to nursery shelves or dressers. Standing at 16cm tall, the mountain houses the forest who then houses the desert. Too cute!
---
Star Wars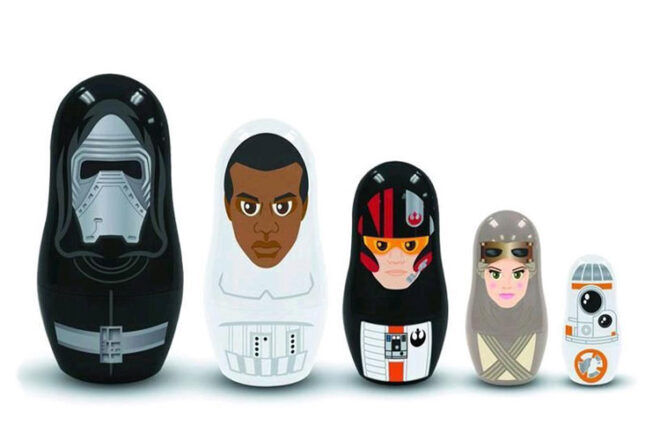 Obi-Wan Kenobi said "Your eyes can deceive you," but they aren't tricking you now – Star Wars babushkas exist! Bring the galaxy far, far away to you with this blockbuster line-up. Though they nest together, you won't want to keep them from having their time in the sun.
---
Monochrome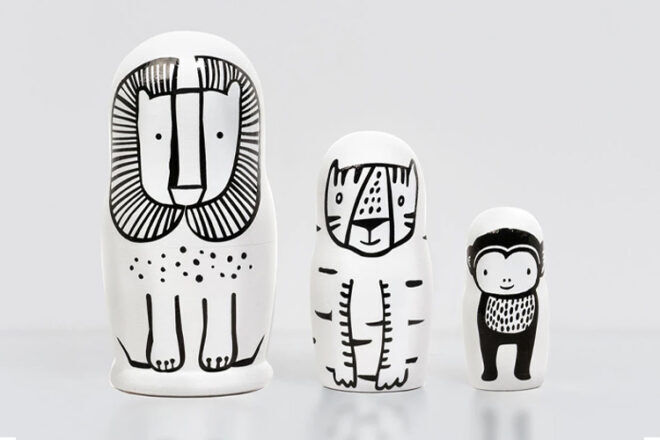 Not only will these monochrome creatures look stylish on their shelf, but there's also actually science behind the black and white. High-contrast imagery attracts young babies and helps stimulate their rapidly developing sense of sight.
---
Cats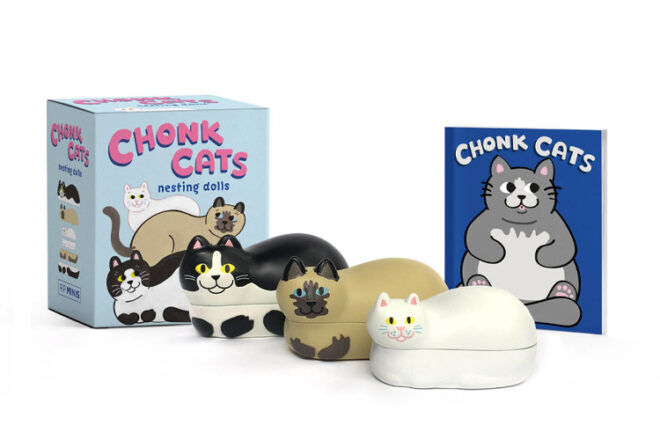 Lovers of the viral trend 'chonk cats' will adore these delightful mini nesting dolls. Even if you aren't on the bandwagon, it's hard to resist these purr-fect desktop companions – they even come complete with a hilarious little book by Jessie O. Moore.
---
Russian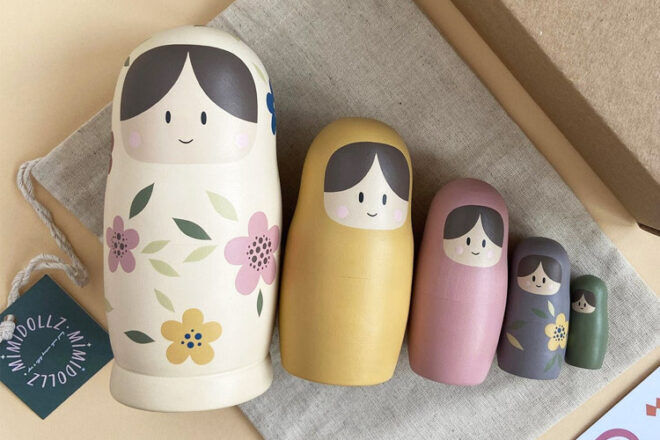 If you're after a traditional set of Russin Matryoshkas in a contemporary palette, this is it. A little bit boho and oh-so-sweet, the set consists of a family of five dolls, each handpainted with love and dedication on durable linden wood. We love!
---
Kitchen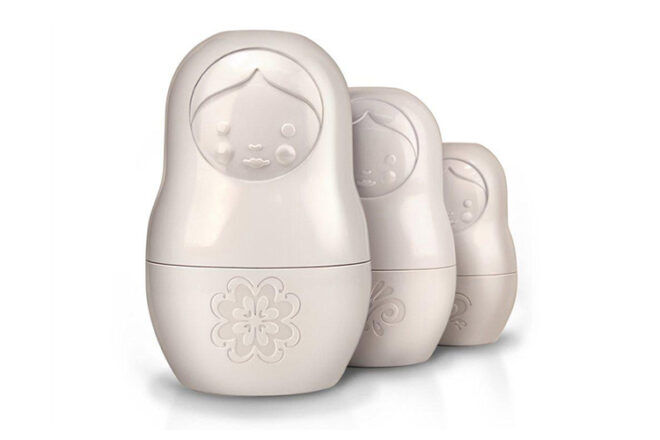 Babushkas and baking go together with these handy helpers! In various sizes, each piece includes convenient embossing on the underside of the cup. White matches any decor, and they save space nested together when not in use. Win-win!
---
Penguins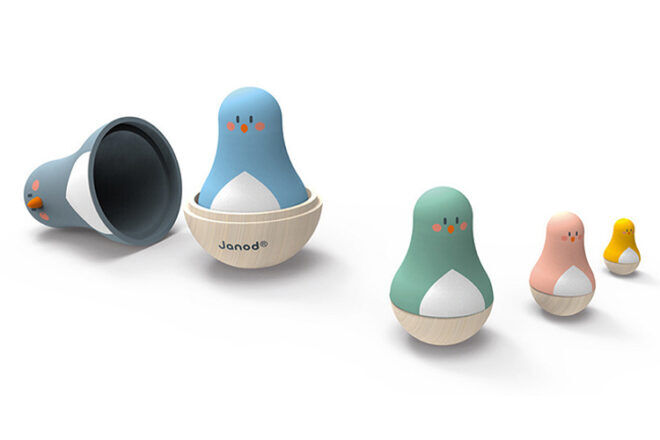 The contemporary hues and clean lines of these babushka penguins make us swoon! Whether nested together or displayed in a line-up, they add personality and charm to playrooms as they waddle their way into little hearts.
---
Birds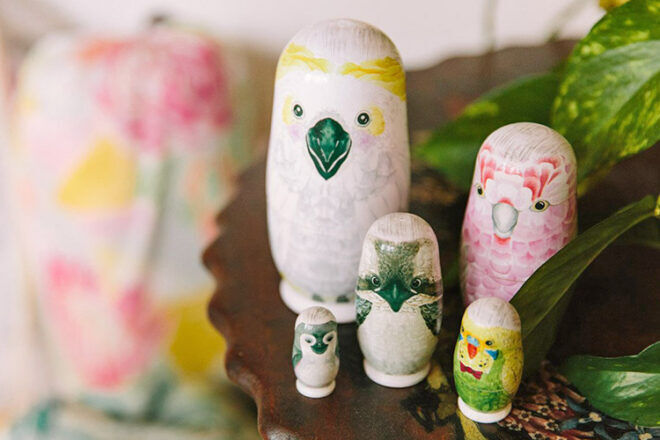 Celebrate Australian birds in all their beauty with this set of exquisite nesting dolls. The hand-illustrated designs will look stunning perched on any shelf. Painted with eco-friendly paints, the bird-watching can continue with sets featuring other birds of the world too.
---
Christmas
Nesting nativity dolls make cracking Christmas companions because they're interactive and fun. Historic characters give a contemporary cartoon twist in a little set that evokes the same joy as opening a present. And when the festivities are over, they pack away perfectly.
---
Doctor Who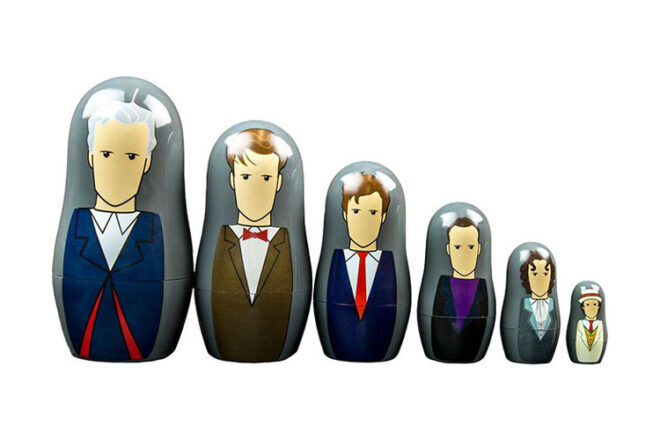 Both Matryoshkas and Doctor Who have stood the test of time, so it's fitting they come together in this nesting set! Travel through time and relive one of the longest-running television shows in history with these iconic and very collectable characters.
---
Modern DIY Tutorial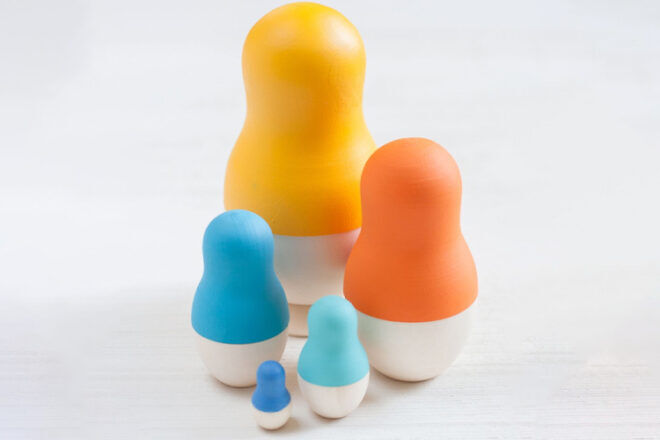 Modern art and minimalist style come to life in this easy-to-achieve nesting doll DIY. Kids will love to open, close, connect and nest these colourful containers whilst also learning colours in the process. Replicate these striking shades or add your own twist to your design. (via Bit & Bauble)
---
This article is lovingly curated by the Mum's Grapevine editorial team and may include affiliates and/or paid inclusions. See our Disclosure Policy.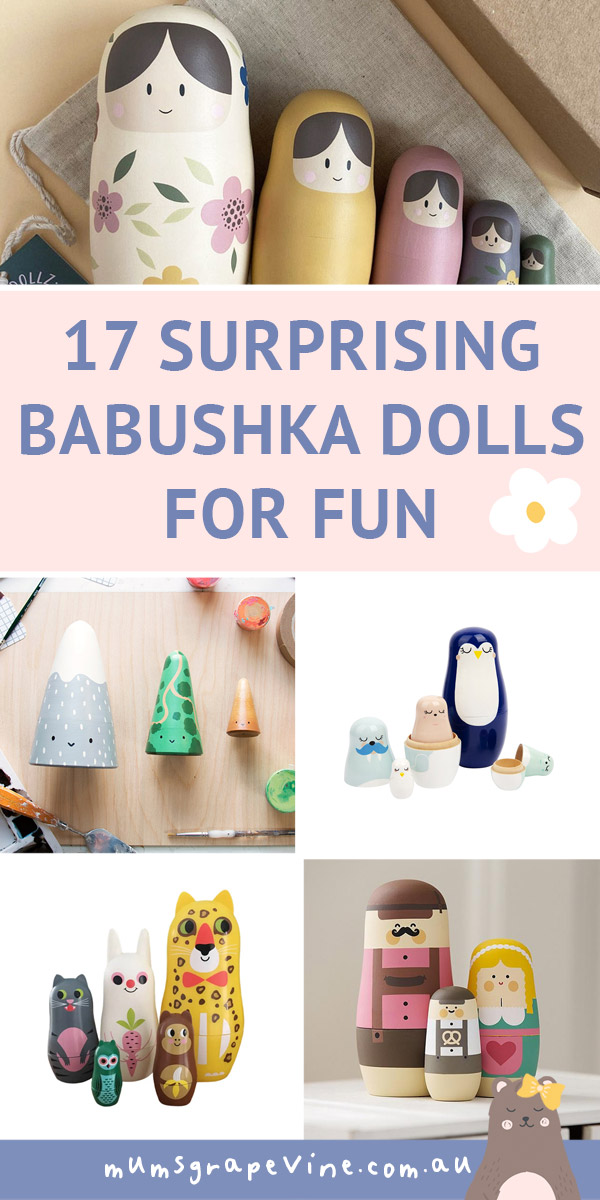 Know a babushka or Matryoshka doll we should add to our list? Contact us and let us know.
Read these roundups next …
On the hunt for more gifts for your busy little bees? Our roundups include a curated selection of Australia's top boutique brands and products, from fun ride-ons to sweet tea sets.